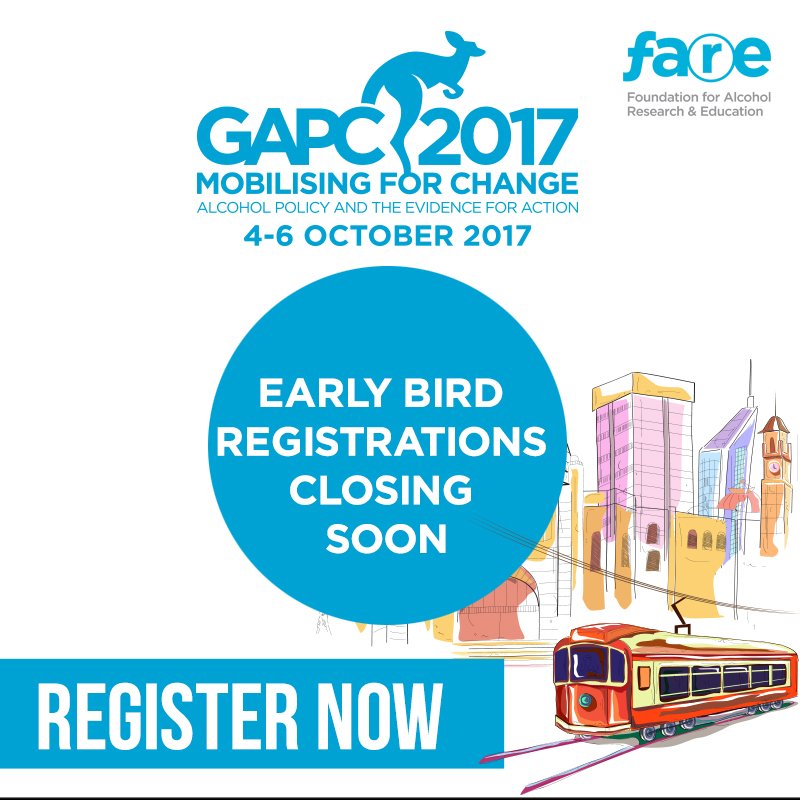 The Global Alcohol Policy Conference (GAPC2017), Mobilising for change: Alcohol policy and the evidence for action, will be held from 4-6 October 2017 in Melbourne, Australia. Early bird registration is still open until 30 June.
The Global Alcohol Policy Alliance (GAPA), Foundation for Alcohol Research and Education (FARE), Public Health Association of Australia (PHAA), and National Alliance for Action on Alcohol Harm (NAAA) invite you down under to this important international conference.
The GAPCs, organised every second year, have become the leading forum for the world's alcohol policy makers, researchers and practitioners. Melbourne, Australia will be the venue for the 2017 version of the event, following the successful conferences in Thailand, South Korea and Scotland.
The Scientific Advisory Committee of GAPC2017 received a great number of abstract submissions from researchers and practitioners for a range of presentation types including oral presentations, workshops, table-tops and posters. The programme is available at the GAPC2017 web site
GAPC2017 maintains the tradition of focusing on advocacy, overcoming vested interests in alcohol policy development and the need for international collaboration to stop the harm caused by alcohol.
The conference will forge links between evidence and action, using rigorous alcohol policy research to inform effective responses at local, state, national and international levels. Each day will be distinct and dedicate time to learning from other sectors – with a diverse range of speakers and topics beyond alcohol, along with insights from other successful interventions, global alliances, and advocacy movements and how these can be applied to the alcohol policy environment.
Register now
Early bird registration is open until 30 June. More information about the conference is available at the GAPC2017 website.
See you in Melbourne!