Several GAPA representatives participated in the Prince Mahidol Award Conference (PMAC) in Bangkok 31 January–3 February. Alcohol received quite a bit of attention in the conference and was mentioned by many speakers and in interventions from the floor, both in the plenary and parallel sessions as well as on Twitter (#PMAC2019).
GAPA Chair, Professor Sally Casswell spoke in the plenary session "Address Determinants of NCD: the Whole of Government and Systems Response", and in the parallel session, "Building Ethical Systems for Public Interest in the National Response to NCDs". In addition Ms Aadielah Maker Diedericks from the Southern African Alcohol Policy Alliance spoke in the parallel session about Commercial Determinants of Health and the experience from alcohol situation in South Africa.
Any mention of alcohol also seemed to be well received by the audience. Many new, young voices have taken this up in social media.
Alcohol was also mentioned in the PMAC Conference statement:
"Recognizing that alcohol remains the only psychoactive and dependence-producing substance with significant global impact on population health that is not controlled at the international level by legally-binding regulatory frameworks; that although evidence is available on the most cost-effective 'best buy' actions which include increasing taxes on alcoholic beverages, enacting and enforcing bans or comprehensive restrictions on exposure to alcohol advertising across all types of media, and enacting and enforcing restrictions on the physical availability of retailed alcohol; these are yet to be fully implemented;"
Side meeting: Framework Convention on Alcohol Control: Why and How?
On 29 and 30 January, prior to the PMAC, GAPA co-hosted two side meetings. One was a half-day session on "Framework Convention on alcohol Control (FCAC): Why and How" together with IOGT International, Thai Health Promotion Foundation, Third World Network, International Health Policy Program, Thailand and National Authority on Tobacco and Alcohol (NATA), Sri Lanka. Dough Webb from UNDP moderated and GAPA Chair Sally Casswell held the main introduction in an event which also included the following speakers and panellists:
Professor Kumnuan, Thai Health/GAPA Board Member
Pubudu Sumanasekara, International Vice President, IOGT
International, GAPA Board member
Dr Palitha Abeykoon, NATA, Sri Lanka
Sanya Reid Smith, Third World Network
Øystein Bakke, GAPA
Tungamirai Zimonte, Board Member, IOGT International
Dr TRAN Tuan, Chairman Viet Nam Noncommunicable Diseases Prevention Alliance
Dr. Supreda, ThaiHealth, CE, Thai Health
Paula Johns, NCD Alliance Board Member, GAPA Board Member
Issah Ali, Executive Director, VALD
Robin Room, Researcher, La Trobe University, Melbourne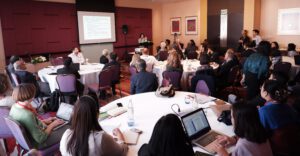 The room with a capacity of 50 people was overfilled; there were good presentations, active participation in group discussions and a good debate in the plenary.
In addition GAPA was involved as co-hosts in the side meeting "Advancing SAFER – the new WHO-led initiative to reduce alcohol related harm globally" together with United Nations Inter-Agency Task Force on NCD, IOGT International, NCD Alliance and Vital Strategies.