The Global Alcohol Policy Alliance is a network of non-governmental organisations and people working in public health agencies who share information on alcohol issues and advocate evidence-based alcohol policies, free from commercial interests. Resource centres affiliated to GAPA operate in Africa, European Union, South America, South East Asia, USA and Western Pacific regions.
Follow @globalgapa
---
UNITAR must end alcohol and road safety partnership with ABInBev
In a joint open letter to United Nations Institute for Training and Research (UNITAR) sent 13 March 2018, GAPA has reiterated the concerns over UNITAR having entered into partnership with the world's biggest brewing company, Anheuser-Busch InBev. Partnering with the alcohol industry to promote road safety constitutes a fundamental and grave conflict of interest, says the letter. Read it here.
Civil society urges Global Fund to end partnership with Heineken
In a joint open letter sent 1 February 2018 to the The Global Fund; GAPA, IOGT International and the NCD Alliance voiced deep concern and urged to immediately end the recently announced partnership with Heineken. The letter was endorsed by a number of regional and national organisations and networks and more are joining. Read the letter here.
The constructive meeting is first step towards ending Global Fund's ill-advised partnership with Heineken, though concerns remain, the three organisations stated after having met with Global Fund Executives in Geneva 2 March 2018. Read the statement here.
GAPC2017 Mobilising for change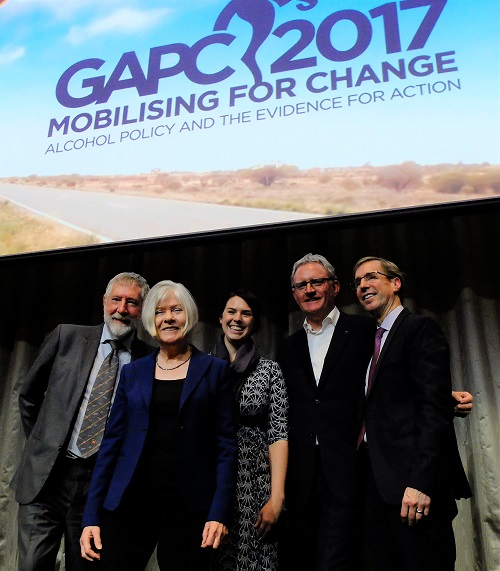 The Global Alcohol Policy Conference (GAPC2017), Mobilising for change: Alcohol policy and the evidence for action, was be held from 4-6 October 2017 in Melbourne, Australia. The Global Alcohol Policy Alliance (GAPA), Foundation for Alcohol Research and Education (FARE), Public Health Association of Australia (PHAA), and National Alliance for Action on Alcohol Harm (NAAA) hosted the conference. The programme, the Melbourne Communique and a picture gallery are available.
Read more here…
---
Video from GAPC 2017
---
Alcohol: a global concern
---
---