The Global Alcohol Policy Alliance is a network of non-governmental organisations and people working in public health agencies who share information on alcohol issues and advocate evidence-based alcohol policies, free from commercial interests. Resource centres affiliated to GAPA operate in Africa, European Union, South America, South East Asia, USA and Western Pacific regions.
Follow @globalgapa
Alcohol and COVID-19: what you need to know
Successful GAPC 2020 held in Dublin, Ireland
The 6th Global Alcohol Policy Conference was held in Dublin Ireland in early March, marking the 20th anniversary since the first GAPC. The event was held a week before most of Europe imposed severe restrictions due to the Covid-19 situation. Of the 412 registrations from 50 countries; 340 attended from 47 countries.
Read more about GAPC 2020 here
GAPC 2020 online discussions
We are hosting a series of online discussions to reflect on themes arising from GAPC 2020. These moderated discussions will run from late April until 31 May 2020 on Workplace (an online platform similar to Facebook) where you can connect with like-minded alcohol policy advocates anytime and anywhere, using a free app on your mobile phone. Video recordings of the conference plenary sessions will be made available for review. Your valuable input will inform GAPA's future efforts to accelerate global progress in alcohol control.
To join the online discussions, please sign up at:
https://globalgapa.org/discussion2020
This event is:
Free of charge
Open to any representatives of civil society organizations and academic institutions with an interest in alcohol policy
Not open to anyone with any links, direct or indirect, with the alcohol industry
Questions? Email gapa@globalgapa.org
---
GAPA position paper on WHO consultation about Global alcohol strategy and the way forward
WHO issued a discussion paper 24 October and opened a web-based consultation until 4 November. This is part of a process to fulfil the request from the World Health Assembly 2019 to report on the implementation of WHO's global strategy to reduce the harmful use of alcohol during the first decade since its endorsement, and the way forward.
Read GAPA's position paper here.
---
The Great Debate
On October 2nd Boston University School of Public health hosted the symposium "Private-Sector Collaborations with Academic Public Health: Opportunities and Challenges" in which GAPA Chair Sally Casswell debated with Scott Ratzan from the ABInBev Foundation over "Challenges or opportunities" for collaboration with alcohol industry. The attached report by Thomas Babor and Katherine Robaina will give you a picture of the debate.
Read the report: The Great Debate
---
Alcohol: a global concern
---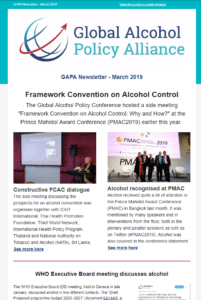 ---