The Global Alcohol Policy Alliance is a network of non-governmental organisations and people working in public health agencies who share information on alcohol issues and advocate evidence-based alcohol policies, free from commercial interests. Resource centres affiliated to GAPA operate in Africa, European Union, South America, South East Asia, USA and Western Pacific regions.
Follow @globalgapa
---
GAPA principles for advocacy during WHO process to accelerate action to reduce the harmful use of alcohol 2020 – 2022
Following a decision at the World Health Organisation 146th Executive Board WHO will start a two-year process to "accelerate action to reduce the harmful use of alcohol" . This includes a consultation towards an action plan 2022-2030 for the global strategy to reduce the harmful use of alcohol; development of a technical report on the harmful use of alcohol related to cross-border alcohol marketing; a call for more resources to be made available; and a review of the Global strategy in 2030. Civil society has an important role to play in contributing to consultations and communicating with decision makers about what such an accelerated action will entail. GAPA and its global network will participate actively in the two-year process and beyond. Read "GAPA Principles for Advocacy 2020 – 2022" and the summary of "GAPA's key recommendations".
---
Alcohol and COVID-19: what you need to know
Successful GAPC 2020 held in Dublin, Ireland
The 6th Global Alcohol Policy Conference was held in Dublin Ireland in early March, marking the 20th anniversary since the first GAPC. The event was held a week before most of Europe imposed severe restrictions due to the Covid-19 situation. Of the 412 registrations from 50 countries; 340 attended from 47 countries.
Read more about GAPC 2020 here
---
GAPA position paper on WHO consultation about Global alcohol strategy and the way forward
WHO issued a discussion paper 24 October and opened a web-based consultation until 4 November. This is part of a process to fulfil the request from the World Health Assembly 2019 to report on the implementation of WHO's global strategy to reduce the harmful use of alcohol during the first decade since its endorsement, and the way forward.
Read GAPA's position paper here.
---
The Great Debate
On October 2nd Boston University School of Public health hosted the symposium "Private-Sector Collaborations with Academic Public Health: Opportunities and Challenges" in which GAPA Chair Sally Casswell debated with Scott Ratzan from the ABInBev Foundation over "Challenges or opportunities" for collaboration with alcohol industry. The attached report by Thomas Babor and Katherine Robaina will give you a picture of the debate.
Read the report: The Great Debate
---
Alcohol: a global concern
---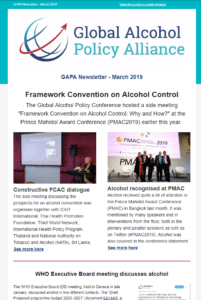 ---