---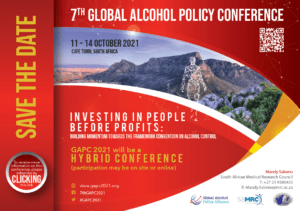 Global Alcohol Policy Conference 2021 to be held in Cape Town – on site and online
The 7th Global Alcohol Policy Conference (GAPC) 2021 will be held in Cape Town, South Africa, 11-14 October 2021. Keep the dates! Considering the uncertainties regarding the COVID-19 situation at that time, GAPC 2021 will be a hybrid conference with both on site and online participation. Themed "INVESTING IN PEOPLE BEFORE PROFITS; Building momentum towards the Framework Convention on Alcohol Control" GAPC 2021 will build on the interesting national alcohol policy scene in South Africa and draw the best from the global context to create a truly international conference.
Register here to receive updates about about GAPC 2021.
GAPA principles for advocacy during WHO process to accelerate action to reduce the harmful use of alcohol 2020 – 2022
Following a decision at the World Health Organisation 146th Executive Board WHO will start a two-year process to "accelerate action to reduce the harmful use of alcohol" . This includes a consultation towards an action plan 2022-2030 for the global strategy to reduce the harmful use of alcohol; development of a technical report on the harmful use of alcohol related to cross-border alcohol marketing; a call for more resources to be made available; and a review of the Global strategy in 2030. Civil society has an important role to play in contributing to consultations and communicating with decision makers about what such an accelerated action will entail. GAPA and its global network will participate actively in the two-year process and beyond. Read "GAPA Principles for Advocacy 2020 – 2022" including the summary of "GAPA's key recommendations".
---
New report on alcohol industry activities in Latin America and the Caribbean
GAPA, NCD Alliance, Healthy Latin America Coalition and Healthy Caribbean Coalition have launched a new report based on a systematic review of alcohol industry activities since 2015 in Latin America and the Caribbean (LAC). The report was researched and written by Katherine Robaina, Tom Babor, Ilana Pinsky and Paula Johns and is available in English and Spanish. Read more about and download the report here.
---
Alcohol and COVID-19: what you need to know
Successful GAPC 2020 held in Dublin, Ireland
The 6th Global Alcohol Policy Conference was held in Dublin Ireland in early March, marking the 20th anniversary since the first GAPC. The event was held a week before most of Europe imposed severe restrictions due to the Covid-19 situation. Of the 412 registrations from 50 countries; 340 attended from 47 countries.
Read more about GAPC 2020 here
---
Alcohol: a global concern
---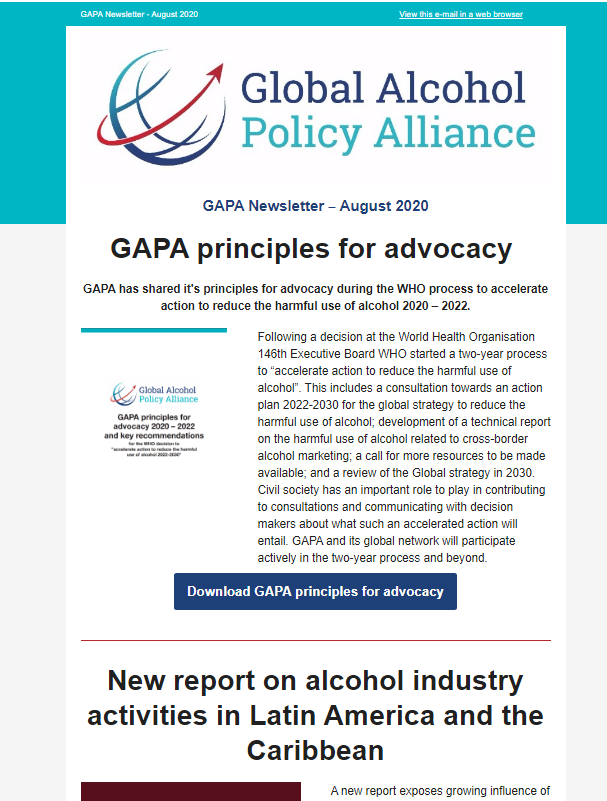 ---