The Global Alcohol Policy Alliance is a network of non-governmental organisations and people working in public health agencies who share information on alcohol issues and advocate evidence-based alcohol policies, free from commercial interests. Resource centres affiliated to GAPA operate in Africa, European Union, South America, South East Asia, USA and Western Pacific regions.
Follow @globalgapa
---
GAPC 2020 to be held in Dublin, Ireland
Sally Casswell, Chair of the Global Alcohol Policy Conference (GAPA), Simon Harris TD, Irish Minister of Health and Catherine Byrne TD, Minister of State for Health Promotion and the National Drugs Strategy, announced today that the 6th Global Alcohol Policy Conference 2020 (GAPC 2020) will be held in Dublin, Ireland 9-11 March 2020.
Read more about GAPC 2020 here
Visit the GAPC 2020 conference website here
The Great Debate
On October 2nd Boston University School of Public health hosted the symposium "Private-Sector Collaborations with Academic Public Health: Opportunities and Challenges" in which GAPA Chair Sally Casswell debated with Scott Ratzan from the ABInBev Foundation over "Challenges or opportunities" for collaboration with alcohol industry. The attached report by Thomas Babor and Katherine Robaina will give you a picture of the debate.
Read the report: The Great Debate
GAPC2017 Mobilising for change
The Global Alcohol Policy Conference (GAPC2017), Mobilising for change: Alcohol policy and the evidence for action, was be held from 4-6 October 2017 in Melbourne, Australia.
Read more here…
And see the video from GAPC 2017:
---
Alcohol: a global concern
---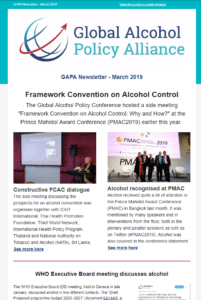 ---